Yes, you read that correctly. In support of
Barack Obama
's re-election, his campaign is now selling nail polishes which are pretty pricey given the size.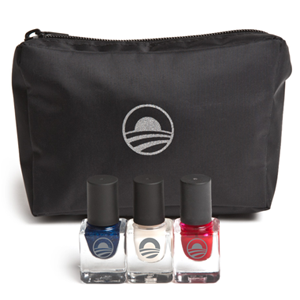 They come in a set of 3 colors and each one is not even half the size of
Essie
polishes and will run your pockets about $40. If it came with a dinner with
Michelle Obama
, I'd totally buy it lol.The
3-lacquer set
was designed by
Le Métier de Beauté
's
Richard Blanch
, and it comes in a makeup bag emblazoned with the Obama campaign logo. Here are our qualms:
1. The bottles are very small! At 0.135 oz, each bottle is about a third of the size of a bottle of Chanel polish (0.4 oz) and nearly a fourth of the size of OPI and Essie (0.5 oz).
2. The set is expensive! The bag and three bottles will set you back $40. For reference, one (much larger) bottle of (super fancy) Chanel polish costs $26, while OPI and Essie generally go for $8.
3. The color names are not great! Okay, this is less of a legitimate criticism, but still. Red-y To Win ("a delightfully deep red") is sort of clever, but Bo Blue ("a shimmering sapphire blue")? Bo-ring. (Still love you though, Bo.) We're most disappointed with Victory White ("a soft, clean white") because a) we don't really get the reference and b) some sort of White House pun should have been made instead.
If you are so moved, purchase them
here
.