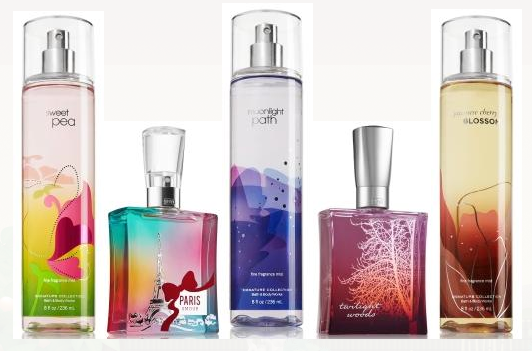 Hey Fashionistas! Did you know that today is a special day in the world of beauty? It's
National Fragrance Day
! Woop-woop! As you can see I'm kinda excited about it. Not because it's some sentimental part of my beauty-obsession, but simply because I've come to really love a multitude of scents, so every year on March 21 I have another reason to not feel guilty about my vanity being covered with perfume bottles!
Plus, it's finally springtime, so it's only natural to switch up your perfume to accompany this gorgeous time of year. According to Fragrance Psychologist
Dr. Joachim Mensing
, floral scents will be king for Spring 2012. (I had no clue there was such a thing as a fragrance psychologist. Very cool, right?!)
In lieu of this special day,
Bath & Body Works
is celebrating in the most lovely way via
Facebook
and
Twitter
.
For your chance to snag these prizes, "Like" Bath & Body Works on Facebook and follow them on Twitter.
Here's the scoop on the goodies you can win:
First 20 people at each store, who make Bath & Body Works their Facebook status update will receive a FREE Full Size Fragrance Mist w/$10 purchase
Each hour Bath & Body Works will highlight one of our top 5 fragrances and giveaway 5 prizes on Twitter and 5 on Facebook (total of 10 each hour)
I'm sooo contemplating taking an early lunch so I can rush through the door and snag a fragrance mist!
Will you be participating in these giveaways? What's scent are you rocking today?