We can't make this stuff up. Kim and Kourtney have teamed with the e-commerce site's Fashion Vault, which hosts weekly flash sales with all sorts of designer goodies. The latest sale is titled "Kardashians' Closet" and is filled with Kim and Kourtney's pricey castoffs -- think Christian Louboutin, Fendi, Burberry, Gucci and a surprising amount of Alexander Wang.
With an insatiable appetite for designer gear and a schedule full of red carpet appearances, why would Kim want to empty out her closet (and on eBay, no less)? For charity, of course: "a portion of the proceeds" from Kim's sale will go to Life Change Community Church, the reality family's house of worship (yes, Kim Kardashian goes to church).
Another reason Kim may be jettisoning a portion of her closet, some speculate, is her new BF, Kanye West. We have noticed (and Fashionista even illustrated) that since beginning her "relationship" with Kanye, Kim has ditched her colorful outfits, opting instead for black, white and gray numbers. Black leggings and a white jacket for date night, an LBD at the Lakers game, a black and white halter dress for a Chanel dinner -- as one half of KimYe, Kim is all monochrome, all the time.
So where has all the leopard print gone? On eBay -- although to be fair, there's plenty of black, white and gray Kimmy clothes being sold online, too.
Peruse Kim's online flash sale (we've rounded up most of the pieces below). You may be surprised to find how much you like some of the items, from classy black pumps to slouchy Alexander Wang dresses. Luckily it's all on sale for the next three days, so that Cavalli animal-print jumpsuit can still be yours.
Go to fashionvault.ebay.com/kardashian to shop it all.
Did you have a big sister whose hand-me-downs you were forced to inherit? Well, imagine that big sister was Kim Kardashian. However, unlike your sis, Kim K wants you to pay for her old clothes...Which only serves to remind us ... it's nice to be Kim Kardashian (sigh).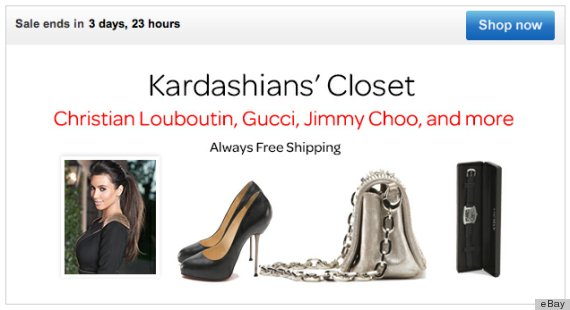 Giambattista Valli Tiger Print Knit Dress, $205.00

(Courtesy of eBay)


Alexander McQueen Halter Ivory Dress, $355.00

(Courtesy of eBay)


Burberry London Black Trench Coat, $760.00

(Courtesy of eBay)


Roberto Cavalli Leopard Print Jumpsuit, $710.00

(Courtesy of eBay)


Burberry London Classic Cotton Trench Coat, $731.00

(Courtesy of eBay)


L.A.M.B. Black Leather Heels, $200.00

(Courtesy of eBay)


Givenchy Armadillo Print Draped Silk Dress, $320.00

(Courtesy of eBay)


AlaÌøa Black Suede Wedge Ankle Booties, $133.64

(Courtesy of eBay)


Fendi Black Suede Heels, $380.00

(Courtesy of eBay)


Chanel Black Satin Ring Accent Heels, $445.00

(Courtesy of eBay)


Ember Skye Blush Shelly Fringe Bag, $512.00

(Courtesy of eBay)


Victoria Beckham Black Draped Top Dress, $575.09

(Courtesy of eBay)


Givenchy Velvet Leather Waist Strapless Dress, $355.00

(Courtesy of eBay)


Chanel Black Knit Fitted Sleeveless Dress, $540.00

(Courtesy of eBay)


Rochas Silver Brocade Sleeveless Dress, $610.00

(Courtesy of eBay)


Givenchy Black Metallic Accent Dress, $206.00

(Courtesy of eBay)


Chanel Long Wrapped Top Column Black Dress, $459.00

(Courtesy of eBay)


Temperley London Brown Leather Skirt, $305.00

(Courtesy of eBay)


Alexander Wang Black Hook & Eye Mini Skirt, $159.50

(Courtesy of eBay)


Theysken's Theory Blue-Gray Jacket, $305.00

(Courtesy of eBay)


Givenchy Ruffle Accent Defined Waist Jacket, $385.00

(Courtesy of eBay)


Alexander Wang Leather Padded Collar Jacket, $225.00

(Courtesy of eBay)


Max Azria Black Cut-Out Sleeve Blazer, $455.00

(Courtesy of eBay)


Alexander Wang Studded Open-Back Blazer, $355.00

(Courtesy of eBay)


Curve Brown Jacket w/ Sequin Shoulder Detail, $201.50

(Courtesy of eBay)


Loeffler Randall Off-White Coat, $255.00

(Courtesy of eBay)


Alexander Wang Black Dress, $405.00

(Courtesy of eBay)


Herve Leger Black/Beige Print A-Line Dress, $620.00

(Courtesy of eBay)


Zac Posen Ecru Sleeveless Dress, $510.00

(Courtesy of eBay)


Emilio Pucci Print Long Sleeve Dress, $401.01

(Courtesy of eBay)


Jasmine De Milo Dusty Rose Bustier, $235.50

(Courtesy of eBay)


Haider Ackermann Black Column Collar Dress, $396.00

(Courtesy of eBay)


Escada Brown Cowl Neck Sweater, $590.00

(Courtesy of eBay)


Sass & Bide Printed Black/Beige Poncho, $590.00

(Courtesy of eBay)


Marc Bouwer Fur Vest, $315.00

(Courtesy of eBay)


Garreth Puge Sheer Light Gray Jacket, $550.00

(Courtesy of eBay)


Joseph Gray Rabbit Fur Jacket, $405.00

(Courtesy of eBay)


Alice + Olivia Gray Sheep Jacket Shrug, $275.00

(Courtesy of eBay)


Alice + Olivia & Scoop NYC Sequin Jacket, $510.00

(Courtesy of eBay)


Jean Paul Gaultier Soleil Printed Sweater, $202.50

(Courtesy of eBay)


Alexander Wang Draped One-Shoulder Dress, $305.00

(Courtesy of eBay)


Aje Ivory/Gold Sequin Shoulder Cut-Out Dress, $530.00

(Courtesy of eBay)


Fendi Gray Suede T-Strap Platform Heels, $350.00

(Courtesy of eBay)


Fendi Gray Suede Platform Peep Toe Heels, $310.00

(Courtesy of eBay)


Ember Skye Cameron Zipper-Detail Clutch, $455.00

(Courtesy of eBay)


Fendi Brown Suede/Patent Leather Heels, $350.00

(Courtesy of eBay)


Christian Louboutin Zebra Print Heels, $900.00

(Courtesy of eBay)


Christian Louboutin Black Platform Heels, $511.00

(Courtesy of eBay)


Christian Louboutin Bow Front Leather Heels, 2,750.00

(Courtesy of eBay)


Chanel Black Satin Bow Front Heels, $520.00

(Courtesy of eBay)


Cesare Paciotti Python & Leather Riding Boots, $530.00

(Courtesy of eBay)


Zac Posen Leopard Print Green & Gray Dress, $530.00

(Courtesy of eBay)


Burberry Maroon Patent Leather Heels, $285.00

(Courtesy of eBay)


Burberry Gray Patent Leather Heels, $310.00

(Courtesy of eBay)


Sass & Bide Strapless Geometric Print Dress, $510.00

(Courtesy of eBay)


Zac Posen Plisse Black Textured Skirt, $355.00

(Courtesy of eBay)


Preen Line Zipper Sleeveless Accent Dress, $405.00

(Courtesy of eBay)


Gucci Teal Pencil Skirt, $285.00

(Courtesy of eBay)


Jimmy Choo Silver Crystal Evening Bag, $980.00

(Courtesy of eBay)


Gucci Olive Belted Puff Fur Collar Coat, $620.00

(Courtesy of eBay)

">



Kim Kardashian's eBay Sale
1

2

3

5

4
Want more? Be sure to check out my posts on Twitter, Facebook,