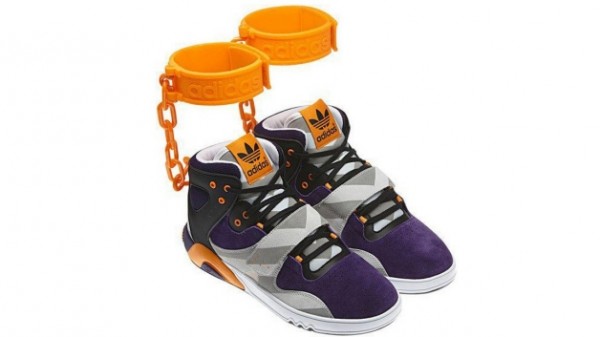 Wait, wait, wait, Let's talk about this for a minute.
Jeremy Scott
, who is known for his outrageousness, had to pull his latest pair of sneakers with
Adidas
out of production. The
Jeremy Scott x Adidas
Roundhouse Mid 'Handcuffs' sneakers have been causing a huge uproar since folks first saw a picture of them on Facebook. They are said to be insensitive because they remind people of shackles that slaves were forced to wear.
For the record,
Jeremy Scott
miiiight
be a bit insensitive. But he is an equally opportunity offender. In previous collections, he was inspired by trash and hillbillies, not to mention the collection of sneakers he has featuring an actual monkey.
Adidas
knew his history and penchant for pushing the envelope and chose to work with him. Their collaboration has yielded popular sneakers like the teddy bear and leopard kicks seen on
Rihanna
and
Lil Wayne
.
Adidas
attempts to explain the design below:
"The design of the JS Roundhouse Mid is nothing more than the designer Jeremy Scott's outrageous and unique take on fashion and has nothing to do with slavery. Jeremy Scott is renowned as a designer whose style is quirky and lighthearted and his previous shoe designs for adidas Originals have, for example, included panda heads and Mickey Mouse. Any suggestion that this is linked to slavery is untruthful."
Fashionista
(love them!) got to the bottom of it, revealing
Scott
's actual inspiration:
"So we reached out to his PR, who confirmed the inspiration was, not surprisingly, a cartoon. My Pet Monster, a plush doll that spawned an animated series, was popular in the '80s and '90s and is "recognizable by its orange plastic handcuffs," according to Wikipedia."
Now, I may be in the minority here, but what if, I don't know, these sneakers really were inspired by a cartoon (below) and the cuffs/shackles weren't a nod to slavery?
For the record, I am brown and recognize that today is
Juneteeth
. And I am the first one to call out fashions or terms that are offensive to black people, especially given our loaded history in this country. And I do believe this design was ill-advised and
Adidas
should have taken the connection between shackles and slavery into account before releasing the sneakers. But I don't think the shoes were conceived from a racist or malicious place.
Am I alone in my thoughts? Let's discuss in the comments.